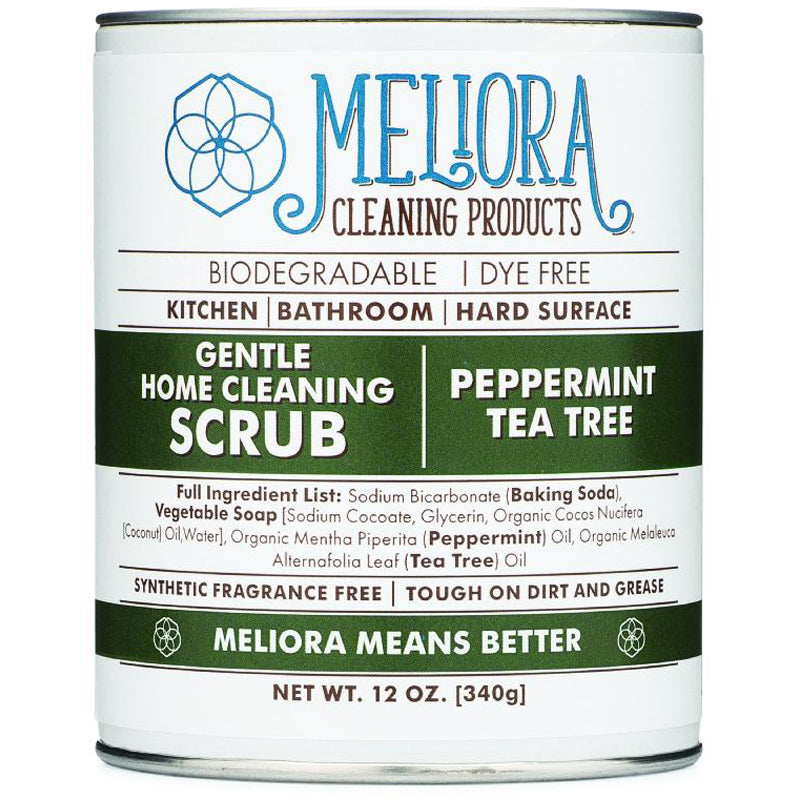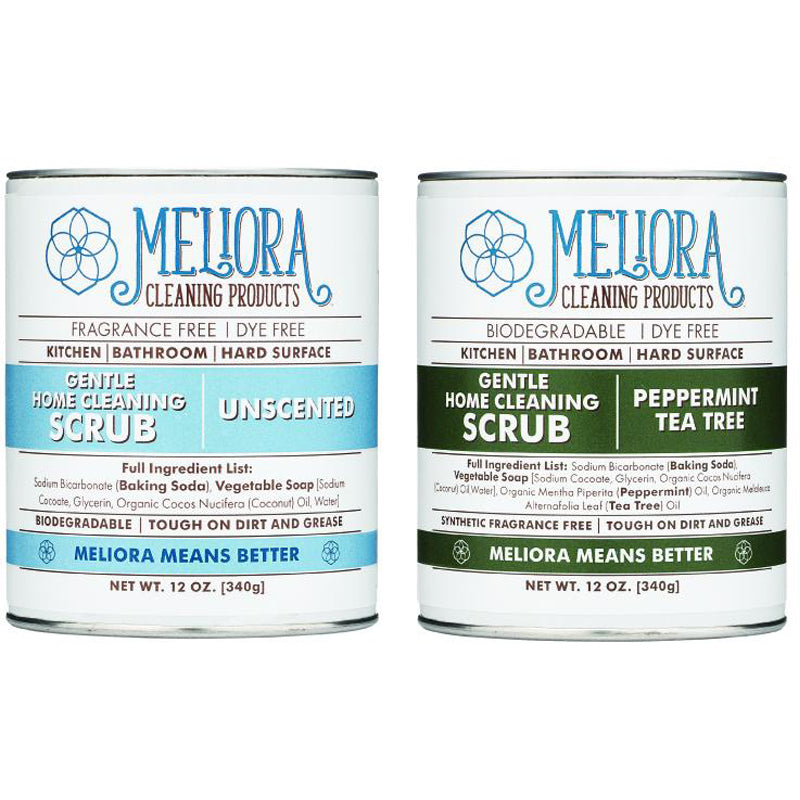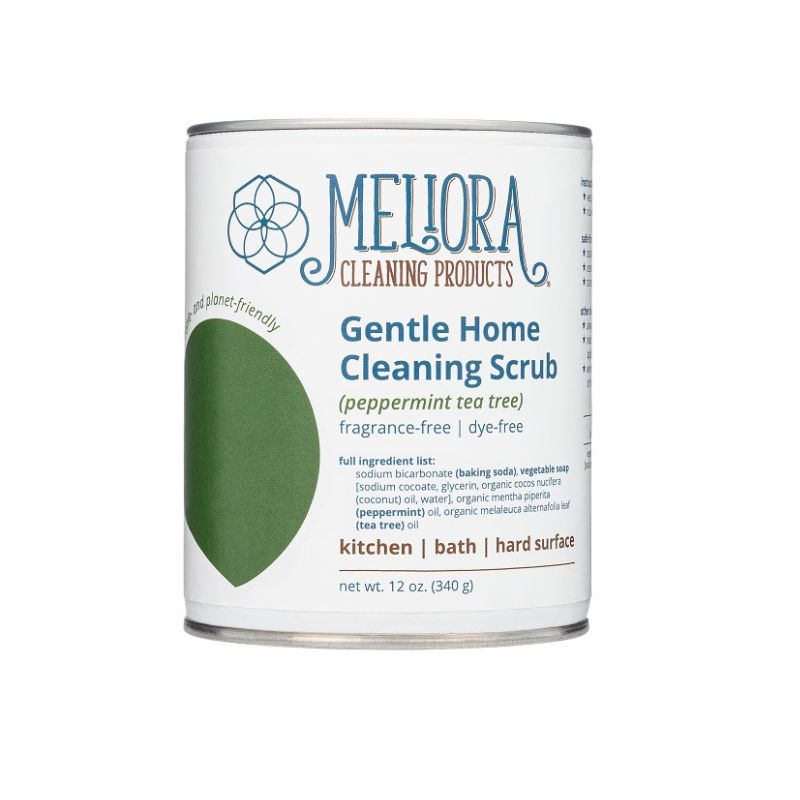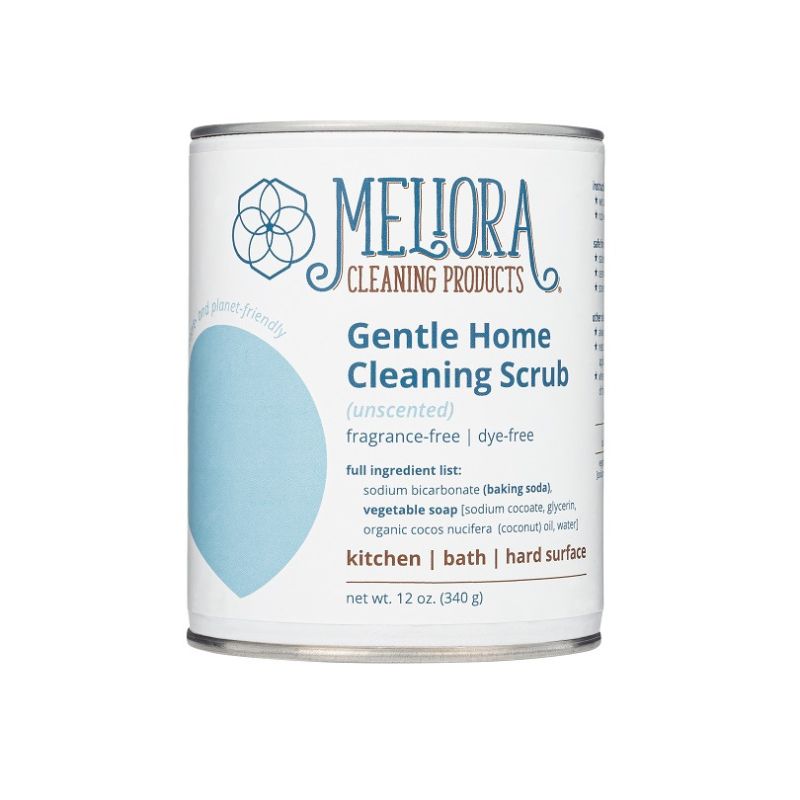 Scent:

Peppermint Tea Tree
Peppermint Tea Tree
Notify me when back in stock

Enter your email to be notified when the product is back in stock.

Please enter a valid email address

Thank you. You will be notified when this product is back in stock.
Get 19 points when you purchase this product!
Learn more about rewards

Earn points for discounts and free products, plus you'll have access to free shipping, free returns, early access to sales, subscriptions, sales, and more!

Check out our rewards page
Dirty bathroom? Grimey stovetop? Tackle it the non-toxic way with Meliora's Gentle Home Cleaning Soft Scrub! Made with all-natural ingredients like baking soda and coconut oil, this powerful all-purpose scrub easily tackles messes on stainless steel, ceramic and porcelain, and most stovetops. To use, simply sprinkle the soft scrub onto a wet surface, and scrub with a rag or sponge! Plus, Meliora is a member of 1% for the Planet, and pledges to donate at least 2% of all sales towards nonprofits like the Women's Voices for the Earth; an environmental non-profit that gives back to our Earth through numerous charitable programs.
Packaging
Ships in 100% Recyclable and Plastic Free Packaging
Origin
Produced and packaged in Chicago, Illinois, USA
Made Without
Cruelty-free and made without animal byproducts
No synthetic fragrances, dyes, optical brighteners, or preservatives
SLS-free
Certifications
This is a MADE SAFE® Certified product that has been third-party tested to ensure it contains only non-toxic, high quality ingredients that are safe for our environment and your skin
B Corp Certified to ensure safe and responsible business practices
Meliora is a Leaping Bunny Certified company that uses no animal testing
Meliora is a woman owned, family run business
Ingredients
Unscented: Sodium Bicarbonate (Baking Soda), Vegetable Soap [Sodium Cocoate, Glycerin, Organic Cocos Nucifera (Coconut) Oil, Water] Peppermint Tea Tree: Sodium Bicarbonate (Baking Soda), Vegetable Soap [Sodium Cocoate, Glycerin, Organic Cocos Nucifera (Coconut) Oil, Water], Organic Mentha Piperita (Peppermint) Oil, Organic Melaleuca Alternafolia Leaf (Tea Tree) Oil
Additional info: sodium cocoate is the chemical name of coconut oil that has been saponified (aka 'made into soap'). Sodium sunflowerate is the chemical name of sunflower seed oil that has been saponified. There will be some coconut and sunflower seed oils left in the soap after they are saponified, due to the fact that Meliora uses sodium hydroxide, or lye, in the conversion process. Leaving these excess oils in the soap ensures there is NO remaining lye in the finished product, and gives the soap its lather and moisture. This process is also called 'superfatting'. Glycerin is naturally created when the oils are converted into soap–and helps to keep skin soft, and is an effective solvent, making it great for dissolving stains and dirt. Water is used in the soapmaking process to dissolve the lye, and then is dried out over several weeks, resulting in a hard soap bar with very little water leftover. There is ~5% water leftover in these soap bars, compared to liquid soap that contains ~60% water. Sodium bicarbonate, aka baking soda, is an odor neutralizer and gentle abrasive.
Product Features
Biodegradable all-purpose soft scrub cleaner made from natural ingredients
Easily cleans tiles, stovetops, stainless steel and other common household surfaces
Tough on dirt and grease–without being too abrasive
Product Care
To use: wet surface, sprinkle cleaning scrub onto surface, rub with a sponge or dish cloth, then rinse surface and wipe dry
Safe for use on stainless steel, ceramic/porcelain tile, and most stovetops. Avoid using scrub on natural/sealed stone and non-stick cookware.
End of Life
Recycle or reuse stainless steel canister
Meliora
Meliora began when their co-founder, Kate, began wondering what was really in her cleaning products. After discovering companies aren't actually required to list all of their ingredients (what?!), Kate set out to create cleaning products with simple, earth-friendly ingredients that are listed on the front of the package. Meliora means 'better'Äù in Latin, and that's what these cleaning products are made to be. They're conscious about choosing ingredients that are effective, safe for the home and body, and cause no trouble for Mother Earth after the chores are said and done. Meliora boasts the MADE SAFE seal and Leaping Bunny on all products, ensuring that no products or ingredients build up on our bodies, in the environment, are toxic for the oceans, or are tested on animals.
See Meliora
Like the grit
Like the little bit of grit for cleaning the sink and commode in the bathroom.
nice cleaner, pricey
I love the scent of this & it seems to work well, it has soap in it so it suds a bit. But it is just really pricey as far as powder cleaner is concerned. Have returned to using Bon Ami as a result but will keep an eye out for this on sale.
So easy to use
Love it so much, works so well to clean up messes.
Smells great, and I love
Smells great, and I love how it is all natural, but it does leave behind a trail of white crumbs on my floors after using it to clean my counters.
A very nice cleaner!
I live in a suite style dormitory, so a lot of the shared spaces we get are our responsibility to keep clean, namely the bathroom and mini-hallway connecting my suite. The trash room in my building is a bit of a walk, so a lot of people at my school are in the habit of leaving their trash bags in their suite's hallways the night before and taking it out in the morning. I live in a suite with 3 other people and a cat so we tend to do that as we have a lot of trash. One of the consequences of this is that our hallway often gets dirty quick, and since its really not much larger than a closet, it can pick up smells easily. Its the type of stain that I couldn't really get out before without some bleach or other really strong cleaner, but I heard a lot of good things about this one before ordering.
I've only tried the cleaner a couple times, but it really is quite nice! I got the unscented version so I wouldn't have to worry about any scents having an adverse effect on the cat, but even without any scents, the powder smells really nice and clean. I've really only used it on tile, but it works really well! A lot of the scuffs and marks scrubbed out almost immediately, and the more stubborn stains came out with only a couple minutes of scrubbing. Plus, I'm the type of person who usually gets quite ill from the smell of cleaning agents, but using this cleaner, even for longer periods of time, had no adverse effects on me. This is something that is particularly important to me, especially as the dorm I live in doesn't have a lot of air flow, so its nice to not to have to worry about breathing in chemical-ly air while I clean.
The container doesn't specify how much to use when cleaning, but I would say that when it comes to this powder specifically, a little definitely goes a long way. It doesn't take a lot of powder to build up a good lather, though I did notice the powder will take longer to dissolve if you use too much, so I'd definitely reccomend starting small and slowly adding more as needed if its your first time using this cleaner. I just used a scrubbing sponge for cleaning and a towel to wipe off the floor afterwards, and I've found that method worked very well for me!