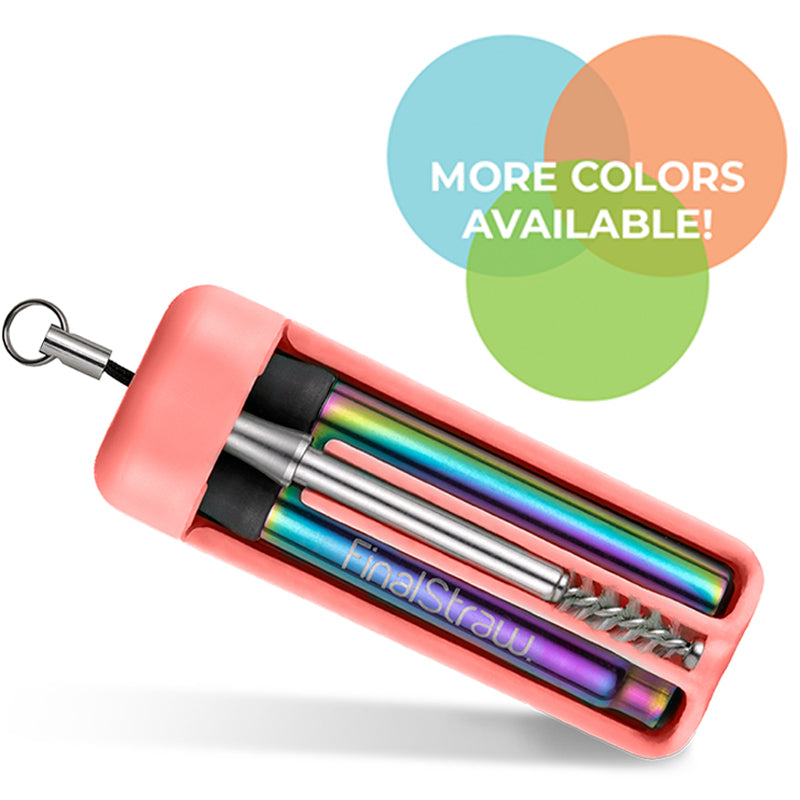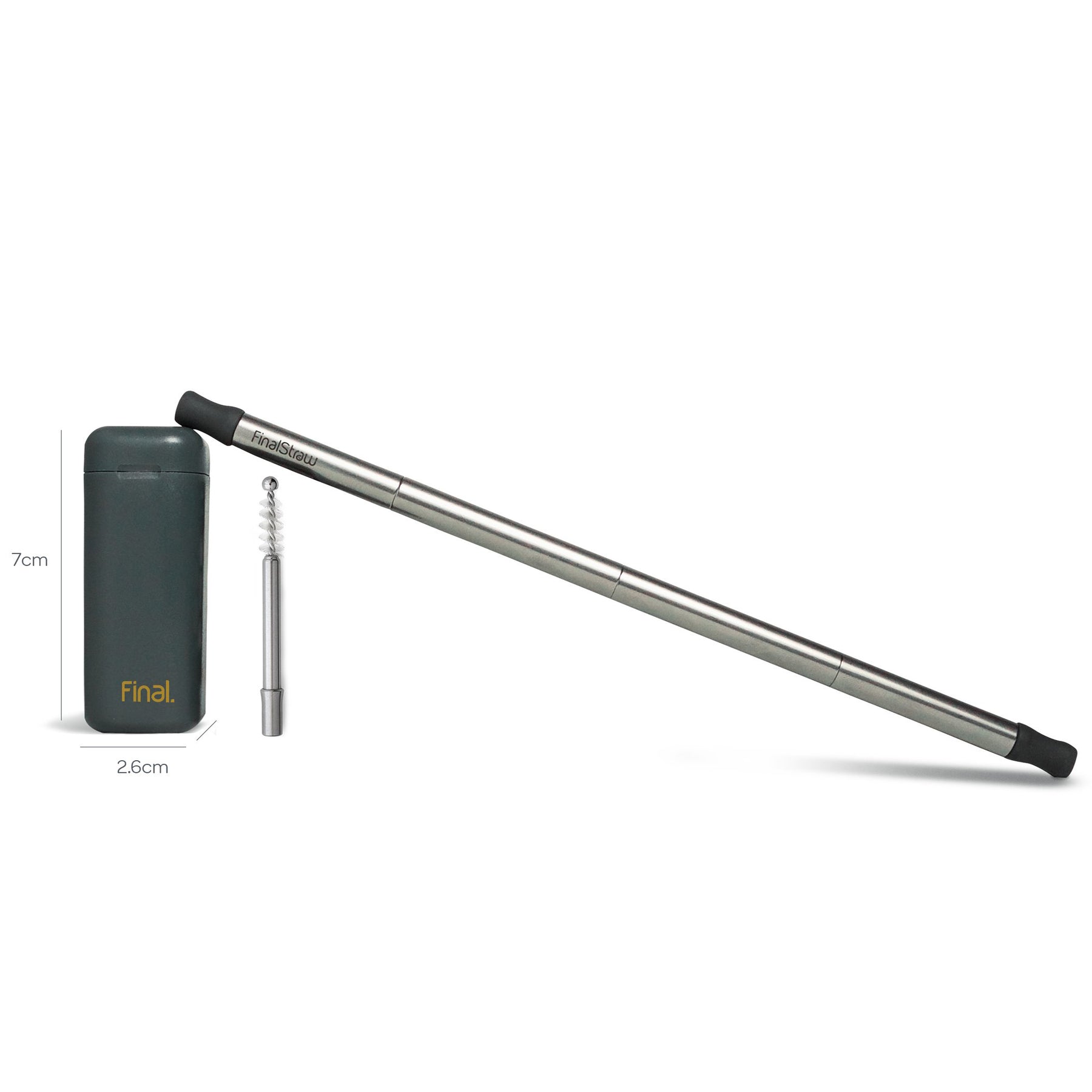 Case Color:

Straw-tosphere Blue
Straw-tosphere Blue
Case-Straw Color:

Stainless
Stainless
Notify me when back in stock

Enter your email to be notified when the product is back in stock.

Please enter a valid email address

Thank you. You will be notified when this product is back in stock.
Get 49 points when you purchase this product!
Learn more about rewards

Earn points for discounts and free products, plus you'll have access to free shipping, free returns, early access to sales, subscriptions, sales, and more!

Check out our rewards page
It's time to #SuckResponsibly with FinalStraw 2.0 –the world's first reusable, collapsible straw that raised over $1.8 million on Kickstarter! This badass little straw is a convenient, durable alternative to single-use plastic straws, thanks to long-lasting materials like stainless steel and food-grade silicone... not wasteful plastic. Their patented self-assembling foldable design lets you tuck the straw into its recycled plastic carrying case with ease, and comes with an innovative telescoping cleaning brush made from stainless steel for when it's time to clean the straw (although it is dishwasher safe, too!). Plus, the carrying case features a keychain clip, so you never have to worry about leaving your straw at home again. Their first version, the FinalStraw 1.0 was a game-changer in the world of sustainability – but this version, the FinalStraw 2.0, features a smaller, more lightweight travel case, a wider inner diameter for more sucking power, and uses less materials than the original version... but the same 9" long straw we know and love. Stop sucking, and start living more sustainably with FinalStraw!
Products that are labeled as BPA free do not contain Bisphenol A, a chemical commonly found in plastic products. Studies on BPA exposure have shown that high levels of BPA could lead to hormone disruption, effects on behavior and brain function, reproductive problems, breast cancer, heart disease, infertility, and more.
Shop BPA Free Products
Phthalates are found in toys, electronics, personal care products, plastic wraps, containers, and more. These petroleum based chemicals help soften plastics, and bind fragrances to perfumes, deodorants, creams, and other personal care products. Phthalates are are not chemically bound, meaning they can easily get released into the air, water, or your body, just by using the products as intended. Phthalates have been found to disrupt the endocrine system, which can cause reproductive damage, hormonal imbalances, infertility, mood changes, metabolism changes, and more.
Shop Phthalate Free Products
Recycling is the process of taking an otherwise-discarded item or material and cleaning, sorting, and breaking it down into its basic form (such as fibers or pellets). This material is then used to produce new items. Recycling keeps useful materials from being discarded in landfills, prevents resource extraction due to the creation of new materials, and provides a new life for used items. Recycling can utilize both pre-consumer waste (materials left over from production) or post-consumer materials (used clothing, empty water bottles, etc). Recycled plastic utilizes salvaged post-industrial plastic scraps and post-consumer products such as water bottles and other plastic containers, and transforms them into new products. The containers are sorted, crushed, and then heated to form resins, which are liquid plastics that can harden into new shapes. These resins can be molded and used to create anything from carpet to outdoor furniture. Recycling plastic lowers the amount of petroleum extracted and the production of greenhouse gasses associated with first-time plastic production. Plus, by using these existing materials, we're benefiting from the original energy and resources spent to create them in the first place, while diverting waste from the landfill.
Shop Recycled Plastic Products
Packaging
FinalStraw carrying case made from recycled plastic
Ships in packaging made from recycled content
Shipping packaging is recyclable
Origin
Responsibly made in China
Made Without
Latex free, BPA-free, and phthalate-free
Materials
Straw: stainless steel
Inner elastic and tip: medical & food-grade silicone
Case: recycled plastic
Straw brush: stainless steel with nylon bristles
Product Features
Zero waste, reusable & collapsible straw made from durable stainless steel and silicone for hot and cold beverages
Comes with a lightweight carrying case made from recycled plastic and telescoping straw cleaning brush
Easy to travel with thanks to keychain clip and great for kids
Final Straw 2.0 is their second version, and features a smaller, lighter case, increased inner straw diameter, and less materials used overall – but the same expandable 9" straw we know and love
Warranty
FinalStraw guarantees everything they produce. If you are not satisfied with your straw at the time you receive it, or if it does not perform to your satisfaction, reach out to us to return it for repair, replacement, or refund!
Returns
All products on clearance are not eligible for returns and are considered final sale
Specifications
Compatible with most to-go cups
Can be used with warm drinks up to 250 degrees F
Measurements
Straw Length: 9.055 inches / 23cm long
Straw Outside Diameter: .9cm
Straw Inside Diameter: .5cm
Case Dimensions: 7 x 2.6 x 2.6 centimeters OR 2.75 x 1 x 1 inches
Case Weight: .12 lb. or 1.8 oz
Product Care
To clean, reach into the carrying case to pull out the telescoping straw cleaning brush, and run water and the brush through the straw until soap is gone. Allow to air dry before putting it back into it's carrying case.
Straw is dishwasher safe, but the recycled plastic carrying case is not.
End of Life
Once the inner elastic silicone is removed (try tweezers!), the FinalStraw can be recycled with some stainless steel scrap metal collections!
FinalStraw
FinalStraw began in 2017 with a mission, a groundbreaking design, and a 1.89 million dollar Kickstarter campaign. Since then, Co-Founders Emma Rose Cohen and Miles Pepper have changed the reusable straw game for good by creating an easy, portable alternative to single use plastic straws. Americans use enough straws to wrap around the Earth 2.5 times per DAY. Replace your unnecessary waste with a single FinalStraw, made with stainless steel, food grade silicone, and a sexy recycled plastic carrying case. It'll fit in your purse, on your keychain, in your pocket, wherever really' so you won't be caught without it. Click below to learn more about the FinalStraw story!
See FinalStraw
May need a little love when you first get it
I love this company's products for to-go wear. I have the spork, fork, and now this. When I first got the straw and tried to use it, the rubber was stuck to itself on the sections that bend. So yeah, no liquid getting through there. My first thought was, "Must be a manufacturing defect that the rubber is fused together." So I was planning on returning it and asking for another, but I started messing around with it while watching tv, and a little "massage" later the rubber became unstuck, and now it works as intended :) Fits in my purse, what's not to love about it?
I LOVE my Final Straw!!
I LOVE my Final Straw!! It's the only collapsible straw I could find on the market and its case keeps it clean while stored in my purse. My only complaint is that it takes a while to dry since it has two layers, so sometimes I don't have it in my purse when I need it.
LOVE THIS STRAW! I was
LOVE THIS STRAW! I was a big supporter back when this was just a Kickstarter. Unfortunately, the straw I purchased through the Kickstarter got thrown away by a daydreaming (ex) boyfriend of mine... I tried many other reusable straws after losing that one, but finally I had to get me another Final Straw! It's the only one that collapses and stays clean in my purse while waiting to be used. My only complaint is that it takes a while to dry after being cleaned. So sometimes I end up not having it in my purse when I need it.
Happy to have a reusable
Happy to have a reusable straw that takes up only a small amount of space in my purse and one with the soft tip for teeth because that is important to my partner. I was surprised at how small the cleaning brush was though, but I guess that is to be expected with the small case size. Overall, fits the bill.
Awesome straw, goes everywhere with
Awesome straw, goes everywhere with me.