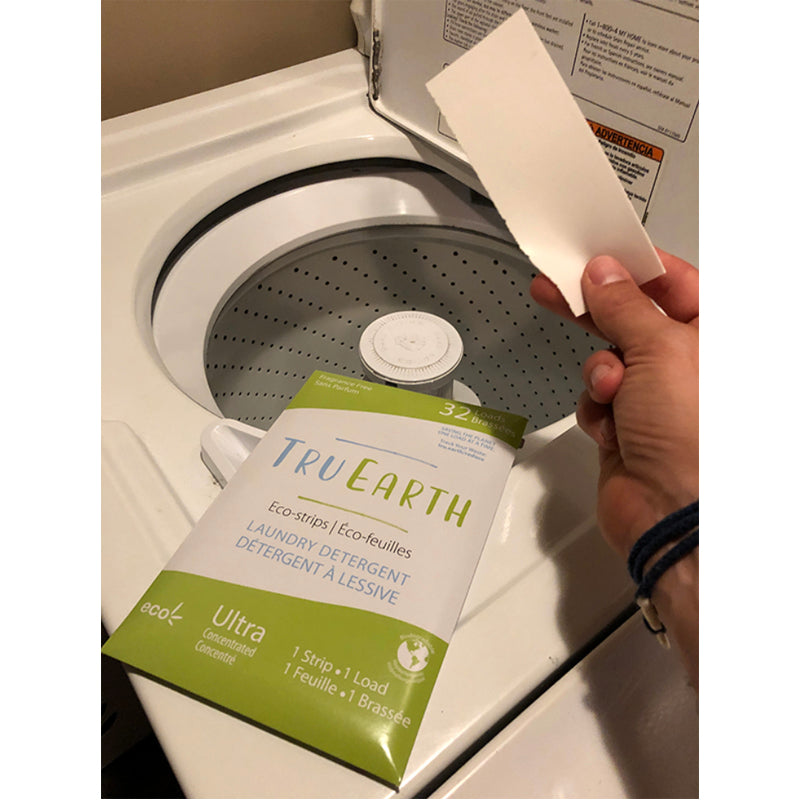 Scent:

Fragrance Free
Fragrance Free
Notify me when back in stock

Enter your email to be notified when the product is back in stock.

Please enter a valid email address

Thank you. You will be notified when this product is back in stock.
Get 138 points when you purchase this product!
Learn more about rewards

Earn points for discounts and free products, plus you'll have access to free shipping, free returns, early access to sales, subscriptions, sales, and more!

Check out our rewards page
It can be a little daunting to go "green" all at once – that's why we created the EarthHero Non-Toxic Natural Laundry Bundle! Complete with two reusable dryer balls, a 32-load pack of laundry detergent strips, a natural stain remover stick, a microfiber-catching laundry ball, and a bag for your delicates, this set is the perfect partner for a natural laundry routine. Step 1: Dampen and use the natural stain stick on any stain until it's lathered up, then wait 10 minutes before washing. Step 2: Put any delicates inside the natural mesh bag. Step 3: Tear off one laundry strip per load. Step 4: Toss your Cora Ball in your washing machine and wash your clothes like normal! Step 5: To dry, toss your clothes into the dryer and include both dryer balls. Bonus: Tip: add a few drops of your favorite essential oil to the dryer balls for a refreshing scent!
Cruelty Free is a certification process through PETA that labels products that are not tested on animals. All companies that are included on PETA's cruelty-free list have signed a statement verifying that they don't use ingredients or create finished products that help conduct or pay for any tests on animals.
Shop Cruelty Free Products
Organic materials and ingredients are grown without the use of chemical pesticides or fertilizers, promoting a healthier use of land and decreasing harmful agricultural runoff. By steering clear of toxic chemicals, farm workers experience less exposure to hazardous conditions, promoting social responsibility as well as environmental stewardship. Choosing organic materials eliminates the use of insecticides and other harmful chemicals, promotes efficient resource use, and results in a safer products and a cleaner planet!
Shop Organic Content Products
Recycling is the process of taking an otherwise-discarded item or material and cleaning, sorting, and breaking it down into its basic form (such as fibers or pellets). This material is then used to produce new items. Recycling keeps useful materials from being discarded in landfills, prevents resource extraction due to the creation of new materials, and provides a new life for used items. Recycling can utilize both pre-consumer waste (materials left over from production) or post-consumer materials (used clothing, empty water bottles, etc). Recycled plastic utilizes salvaged post-industrial plastic scraps and post-consumer products such as water bottles and other plastic containers, and transforms them into new products. The containers are sorted, crushed, and then heated to form resins, which are liquid plastics that can harden into new shapes. These resins can be molded and used to create anything from carpet to outdoor furniture. Recycling plastic lowers the amount of petroleum extracted and the production of greenhouse gasses associated with first-time plastic production. Plus, by using these existing materials, we're benefiting from the original energy and resources spent to create them in the first place, while diverting waste from the landfill.
Shop Recycled Plastic Products
Packaging
All product packaging is plastic-free
Shipping packaging: Boxes are made with recycled content and all shipping packaging is recyclable
Certifications
Natural Laundry Stain Stick: Leaping Bunny Certified, B Corp Certified, MADE SAFE® Certified product that has been third-party tested to ensure it contains only non-toxic, high quality ingredients that are safe for our environment and your skin
Eco Nuts Products are USDA Organic Certified by Oregon Tilth and are Certified Cruelty Free by Leaping Bunny
Mesh Laundry bag is GOTS Certified Organic Cotton
Materials
Cora Ball: 100% Recycled Plastic
Wool Dryer Balls: 100% Organic New Zealand Wool
Soap Nuts: Wild Grown "Sapindus mukorossi" Soap Nuts
Laundry Stain Stick: Vegetable Soap [Sodium Cocoate, Glycerin, Organic Cocos Nucifera (Coconut) Oil, Water]
Mesh Laundry Bag: Organic Cotton
Product Features
The EarthHero Non-Toxic Laundry Bundle comes with everything you need to make the switch to eco-friendly washing and drying!
Plastic-free packaging
Ideal to give as a new-home gift, or to help with your own eco-journey!
Capacity
Cora Ball: For most homes, one Cora Ball will get the job done. For families or larger washing machines, we recommend up to 3 Cora Balls.
Warranty
Unused, undamaged gift boxes in their original product packaging can be returned within 30 days
Returns
Unused, undamaged gift boxes in their original product packaging can be returned within 30 days
Specifications
Includes: Mesh Reusable Delicates Bag, Friendsheep Wool reusable wool dryer balls, Tru Earth Laundry Detergent Strips, Natural Laundry Stain Stick, Cora Microfiber Catching Laundry Ball
Product Care
Cora Ball: Although Cora Ball is very gentle, we recommend washing delicates, fine fabrics, lace and tassels separately so they don't get caught in the Cora Ball.
To clean: when you can visibly see tangles of fibers and hairs, move the stalks of the Cora Ball to the side and pinch the tangles to pull them out easily. Dispose of fibers in your trash bin.
Wool Dryer Balls: To use: toss both dryer balls into your dryer and let them tumble in every load with your laundry. Add a few drops of essential oils to add scent and freshen your clean load of laundry!
To use: rip one laundry strip and toss it into the washer with your clothes!
End of Life
Cora Ball: After years of use, you can easily recycle your Cora Ball by contacting us, or info@coraball.com to have it sent to their recycling center!
Assorted Brands
The brands on EarthHero are game changers. They're innovators and strivers for "better." Some of them are family-owned, while some of them have grown to be a force for good. They all have a story, and we're proud to be a part of it. They're all united in the single goal of leaving a planet better than they found it.
See Assorted Brands
Great Price for what you get.
Great deal for what you get in the bundle!
Convenient, easy to use and
Convenient, easy to use and set up. My only issue is I forget to take out the Cora Ball sometimes when changing from washer to dryer, but that's on me.
Getting Started
Often times when getting started to go green you don't know where to start - this eliminates that struggle! Also great gifts to help friends or family get started too.
Love the Cora Ball and
Love the Cora Ball and stain stick so much! The rest are a good addition.
A sad Christmas.
Unfortunately, I can't read it. It hasn't arrived yet.
Hi Bret, we are so sorry that you did not receive this bundle in time for the Holiday! Due to country-wide shipping delays, we have seen some issues like this. Great news- it looks like this was delivered on Dec. 28th. We hope that you are loving the eco-items inside for your laundry routine! Please let us know if you have any questions- we are here to help at support@earthhero.com!